---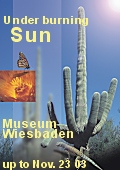 Our next temporary exhibition has started:
Under Burning Sun - Life and Survival in the Sonory Desert

Large format photographs, repro-sculptures and wildlife bronzes by the two artists Ursula Krabbe-Paulduro and Ernst Paulduro will give an impression of this spectacular landscape. With models, preserved animals, a "life-like" habitat and live plants and animals we will explain adaptations to desert conditions. Furthermore life of the indigenous population and in particular diet, crafts and everyday life of Pima and Papago people on the reservations will be depicted.

---
Time Travel
Jahn Hornung and Sven Baier (University of Mainz) could realize a very interesting time travel through the palaeontological collection of the MWNH in 2002. We hope to get an English translation next time.



---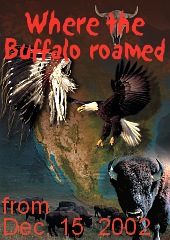 Temporary exhibition
The exhibition on North-America started with 400 visitors on December 15. Dr. Volker Rattemeyer, Mrs Ruth Wagner (Hessen Minister for Science and Fine Arts), Colonel John Hall (Deputy Commander in place of Brigadier General Charles W. Fletcher, Jr.), Dr. Michael Apel und Mr Heinz Bründl opened this temporary exhibition.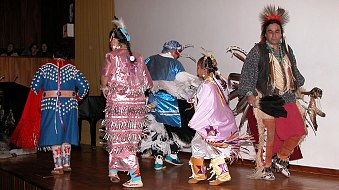 ---
Temporary exhibition on the "Ice-Age": The Ice-Age is finnished now. We will thank our 63.140 visitors, who took part on our trip to this interesting time.
Now we are preparing the next exhibtion on North America, which will be presented in English, too.

---
International Day of Museums on May 12 2002: please visit our webpage.

---

The next special exhibition is on the way: We will offer the "Fauna and native inhabitants of North America" from December 2002 up to April 2003. It will be the first exhibition in two languages: German and English - so our North American visitors can conquer their own country in Wiesbaden.

---
From July 2002: We offer guided tours for children each first Sunday at 3 p.m. and other guided tours each second Tuesday at 6 p.m.

---
30,000th visitor: Johanna Derber (6 years old) won the price for the 30,000th visitor of the Ice Age Exhibition.

---
Filling and promotion
Dr. Michael Apel is taking on as curator till Feb. 02 2002. He worked for the Senckenberg society during last years. In addition Mr. Fritz Geller-Grimm is promoted to a curator.

---
The staff wish you happy Christmas and a good New Year's Day.
---
The programmes for 2002 (Jan. - Jun.) are available now.

---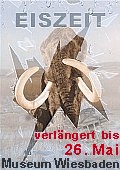 The Ice Age

Our next exhibition will start on Dezember 02. Please take account of our web page. You can order a guided tour in English as well.

We will present spectacular finds from Hesse, like those from Wiesbaden (Adler spring, Mosbach) and Limburg (Steeden).
---
Rebuildings

The exhibition will be closed in summer (May - September), because our stair-well will become a lift. Nevertheless if you are interested in a guided tour, plaese contact us.
---
Report on the Rainforest exhibition

The report [350 kb] on the "Rainforest"-exhibition is available in the meantime (in German).
---
Inventory

The Ministry of Culture and Science put special funds to our's disposal. We started with an inventory of all collections, which have no card files.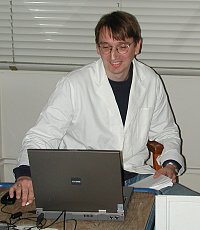 Overview on the palaeontological collection - by: Dr. Torsten Rossmann
Inventory of the pleistocene collection - by: Mrs. Anne Buchroth
Inventory of the Coll. Sandberger, 1. part: Devonian - by: Dr. Doris Heidelberger
Inventory of the mineralogical collection, 1. part - by: Mr. Daniel Altzweig
Inventory of the botanical collection, 1. part - by: Mr.Sylvain Hodvina
Checking of the collection of Mammalia - by: Mr. Erhald Zenker