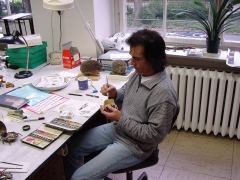 The division has several workrooms:
preparation room
machine-room
wet room
administration room for the stores
study for scientific work and the honorary workers
social room
---
Minoru Suzuki - first taxidermy volunteer in Hesse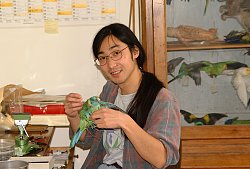 Mr. Suzuki is working for two years in the Natural Science Collection since September 2000. In his Japanese home are hot springs like in Wiesbaden. He has studied taxidermy at the technical college in Bochum, now he is gaining professional experience in Wiesbaden. At the moment he is preparing flying parrots in an excellent way. We are thankful for his involvement and the co-operation.
A report will be offered in the next time. Amangst others he has restored the chimpanzees (from 1908) for the new exhibition on the tropical rainforest (like the method of the Sumatran rhinoceros):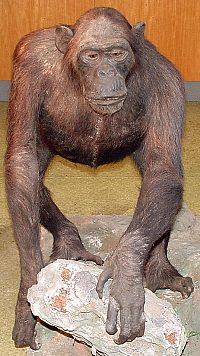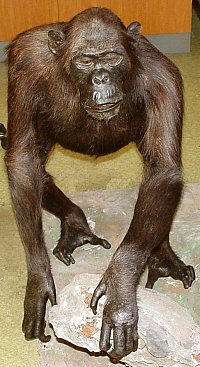 ---
In retrospect
J. Burger belongs to the most significant taxidermist, a student of Kerz. He worked in the Museum Wiesbaden in the 1920/30th. His "estates" are of high quality and can still be shown in the exhibition (cf. Indian Lion. Nearby 500 square metres were occipied by the taxidermist in that time, inclusive a great studio for work.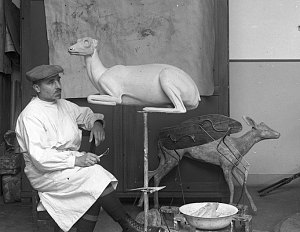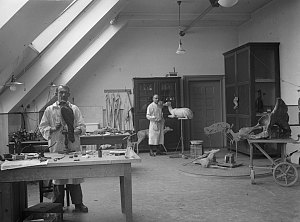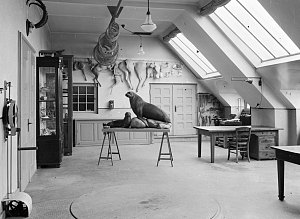 ---
The Future