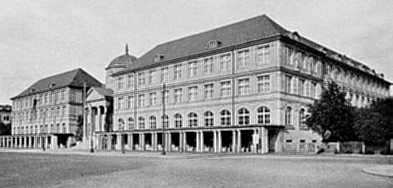 The new building on the Friedrich-Ebert-Allee (1930)
In 1900 Wiesbaden received the museum through a contract with the prussian gouvernment and accordingly started to construct the new building on Kaiser-Strasse (today Friedrich-Ebert-Allee).
The museum's collections were moved from the former building on Wilhelmstraße, corner Friedrichstrasse to their new rooms in 1915. The scientific direction of the museum continued to be confided to the Nassau Society, resp. its director. [Heineck, 1950 - translated by R. Wedig]

A handcart from 1920 with the inscription
"Naturhistorisches Museum der Stadt Wiesbaden"
[= Natural History Museum of the City of Wiesbaden]
- now in the loft.
The working field of the Society essentially covers the former duchy of Nassau. For understandable reasons, the museum has to value the fact of being considered the Nassau County Museum, a title it could claim by historical means, even though this is not expressed in its official nomination: "New Museum, Natural Science Collections" In former times it was natural that the director of the Society and the museum would personally support the organisation of the museum by his own collecting activities and scientific evaluation of the material.
I remember the names Sandberger, Kirschbaum, Koch and Pagenstecher. Each of them was an authority in his own specification. Therfore the center of the museum's performances as a scientifical institution was at one time geology, at another time zoology.

Geological exhibition
Steinsaal, ground floor, cf. 1920


Geological exhibition
Steinsaal, ground floor, cf. 1920


Paläontologische Schausammlung
ground floor, cf. 1920


Zoological exhibition
1st floor, cf. 1920


Zoological exhibition
2nd floor, cf. 1920


Zoological exhibition
1st floor, Ecksaal, cf. 1920
The new building gave more space and more clearness to the growing collections, so that they could seperate into several departments, the most extensive one being zoology, taking up two complete stories by its own and headed by the famous ornithologist Dr. Fritz Neubaur. The geological-mineralogical department, situated on ground-flour, ist organised by me from1924 until today. The botanical collections, especially the large and valuable herbaries of phanergams and cryptogams, are not apt for exihibition but can be used for scientifical work. [Heineck, 1950 - translated by R. Wedig]