Insects (Insecta)
The following information on the entomological collection is available: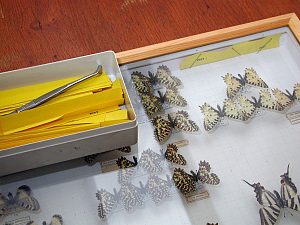 Anoplura, Blattaria, Coleoptera, Collembola, Dermaptera, Diplura, Diptera, Embioptera, Ephemeroptera, Grylloblattariae, Heteroptera, Homoptera, Hymenoptera, Isoptera, Lepidoptera, Mallophaga, Mantodea, Mecoptera, Megaloptera, Microcoryphia, Neuroptera, Odonata, Orthoptera, Phasmida, Plecoptera, Protura, Psocoptera, Raphidioida, Siphonaptera, Strepsiptera, Thysanoptera, Thysanura, Trichoptera, Zoraptera
---
The insect collection of Johann Christian Gerning (1745-1802) was the base for the foundation of the natural History Museum. His son Johann Isaak von Gerning handed over the collection in 1829. The collection is completely preserved and contains 40,000 specimens (in 5,000 species). A part of this collection belongs to Maria Sibylla Merian (1647-1717), who was in touch with the family Gerning (her own collection was destroyed in Leningrad).
The collection could be restored by Mrs. Karin Müller in the last two years.
The Gerning collection was examined by the following scientists: Ochsenheimer; Engramelle, Ernst; Esper (Lepidoptera part.); H. Bickhardt (Coleoptera part.). Therefore it contains a lot of type material.